Things to do Central Coast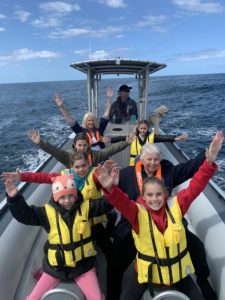 Tours are in high demand, whilst we can sometimes accommodate last minute bookings, we recommend booking in advance.
The easiest way to book is through our website booking system.
Please get in touch if you wish to book a tour that is not showing as available.
It is important that you enter your correct contact details as we may have to contact you regarding weather.
 Children are aged 5-15.
Minimum age is 3 for Summer Tours and 5 for whale watching to ensure safety of your child.
It is an outdoor adventure so wear suitable clothing.
Sunscreen, sunglasses, spray jacket and clothing that can get a little wet are recommended. It is always cooler on the water.
Wear flat soled shoes with good grip. You will be climbing in and out of a boat.
Your safety comes first, tours are weather dependent. We may have to change the schedule at short notice.
If we cancel or relocate tours due to weather or factors beyond our control you have the option of rescheduling or a full refund of any payment. We do not compensate for your travel costs.
Please arrive at least 15 minutes prior to your trip on weekdays and 30 minutes prior on weekends to find parking.
No refund will be issued if you are late and miss the boat.
Terrigal Ocean Tours reserves the right to use any photograph/video taken on its tours for its website, social media or other marketing material without the expressed written permission of those included within the photograph/video. Guests who do not wish to have their image recorded should advise the boat crew during the tour.
CANCELLATIONS 
All cancellations will incur a $10 administration fee.
No refund for cancellations made on the day of a tour.
50% refund for cancellations made within 3 days prior to a tour.
100% refund for cancellations made more than 3 days prior to a tour.
You are welcome to arrange someone else to take your place on the tour at no charge.
If we cancel a tour due to unsuitable weather we will give you the choice of a refund or reschedule to another date.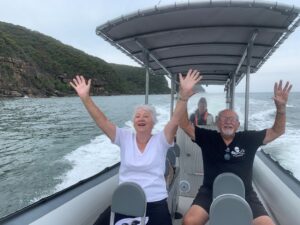 We welcome and support individuals and groups that have any form of disability.
We use a small tender to board the main vessel and good balance and resonable agility is required to move between the two.
The vessels will be moving with wave action as Terrigal is an ocean port.
There are steps to access the vessel, similar to climbing a small step ladder.
Hardys Bay tours have better jetty access but still require the ability to climb stairs.
Unfortunately none of the jetties and wharfs that we can use have wheelchair boarding facilities.
There are wheelchair accessible lookouts for land based whale watching at Terrigal.
Wheel chair accessible toilet facilities are available at the Terrigal location.